7-Up! Online & Mobile Slot | SlotsLtd.com
Play 7-Up! Online & Mobile Slot at SlotsLtd.com
Are you looking for a cool scratchcard game along with a twist? If yes, then your search has finally come to an end. 7-Up! mobile slot shares the classic features you expect to find in most good slots. It will come as no surprise when playing 7-Up! slot, that 7's on reels are synonymous with big pay-outs.


7-Up mobile slot is here!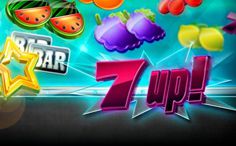 7-Up! consists of seven paylines along with three reels which are made on the left-hand side. A column on this very side will display the prize amount of the current payline. Towards the right-hand side, you will see a range of game options which allows you to choose the number of lines you like to play with, and then you just need to stake for the respective lines depending on your choice. However, the taken amount lies in the range from £0.02 to £10.00.
Gameplay
In the whole gameplay of 7-Up mobile slot, your basic motive is just to land three matching symbols on the current payline. The symbols are made up of random values, out of which the purple coloured seven is the highest. The descending order is mentioned as follows: the Bar comes the second, then blue diamond, then the green coloured clover, the golden horseshoe and the half-chewed watermelon, grapes, the tasty pineapple, the banana, the tiny bitter lemons and then those cherries.
When you are all set to bring down your favourite symbols, then just select your stake according to your pocket. You can do this by using '+' and '-' signs drew over the right side. After this, just select the desired amount and your payline. When you are done with the payline selection click on the 'Play' button in order to start the game. Choosing the 'turbo' button can speed up your game.
7-Up! is a very simple scratchcard game and hence, doesn't have many variations. However, you can check on some elements which are taken from the three reels slot machine.
To sum 7-Up! Online & Mobile Slot up


7-Up mobile slot is a colourful slot which has a number of symbols rolling up and down to keep you occupied. You should not go for this slot if you are looking for a bonus rich game. But you are always welcome here when you wish to spin on a bit simpler reels and laze around with a casino game. The maximum offered amount in this slot mobile is of 10000x.