Play Fruit Blast Slots at SlotsLtd.com Today!
If you feel like a bit of a break from the regular online slots, the Fruit Blast Slots is the ideal option. It provides the thrill of gaming, & the chance to win a good prize. It is brought to you by Skillzz Gaming, one of the well-known gaming companies across the globe. Fruit Blast Slot offers great entertainment . This slot is very popular amongst both novices and professionals in the gambling circuit.

Learn more about the Slot Game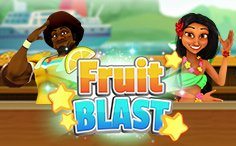 Fruit Blast consists of 5 x 5 grids and the theme of the slot is set in the midst of the beach bar by the blue sea. As the name suggests, it is a combination of drinks and colourful fruits. As you go up the levels in the slot, you get a range of winning combos in the form of bonus features. Some of the bonuses and winning combos that you bag here include summer (in the beginning), Aloha (level 2), Pat (level 5), and levels 9 – 25. In addition, a player can win 1000x the total bet if three jackpots symbols are bagged. In order to bag these winning combos, you have to devise some strategies.
Symbols of Fruit Blast Slot
က wonderful feature about Fruit Blast Slots is that it has a very bright interface. The basic symbols in the slot include all fruits. They are lemons, cherries, grapes, pineapples and watermelons. These colourful fruits lend a bright feeling to the whole interface. The slot does not have any wild symbols or bonus icons. After you start playing Fruit Blast, the fruits land into the respective grids and based on their placements, you will get the prizes or bonuses. The name of the winner is displayed on the screen after the end of the game.

Fruit Blast Slots Hooray!
With a high RTP of around 96%, Fruit Blast Slots is something that almost all players will love. It has an interactive interface, bright graphics and design and what's more, you get a chance to win huge prizes. There are plenty of features that make this game extremely interesting & exciting. Registration is quite easy and you just need to deposit a nominal amount to get started. There are quite a few payment channels through which you can make the payment.

strong{font-weight:700 !Important;} /* .main-content{ margin-top:-3px;} @media screen and (min-color-index:0) and(-webkit-min-device-pixel-ratio:0) { @media { .clearfix2{ height:10px;} .main-content{ margin-top:-3px;} }} .sign-up-now1{ margin-left: 21%; border: 1px solid transparent; border-radius: 3px; background: #001d51 ; width: 184px; height: 42px; font: 20px/40px 'MyriadPro-Black'; text-transform: uppercase; text-align: center; color: #fff; padding: 7px 13px;} @media screen and (max-width: 650px) and (min-width: 280px){ .sign-up-now1{ margin-left:3% !important; font: 13px/40px 'MyriadPro-Black' !important; padding: 13px 13px !important; } } .sign-up-now1:hover{background: #0259f9 !important; border: 1px solid #001d51 !important;} .footer-payment{ margin-top:-23px;}*/ .game-detail-cont { padding: 55px 12px !important; } .bannerterms:first-child p, h1, h3 { text-align: right; color: #000000 !important; }