Play Copy Cats Slot Latest Slots Games at SlotsLtd.com Today!
There are some latest slots games designed with a theme that can give tickle to your funny sense. Such games keep you active and can actually do a good job in cheering you up. A good mood can motivate you, help you focus and thus you can play your strategies well. Copy Cats Slot Latest Slots Games is one such game with funny and animated cartoon style cats in the spotlight. The game is set in the backdrop of a city view of the apartments and a boulevard on a bright sunny day. To make the atmosphere of the game more interesting, there is a nice jazz number being played in the background. Overall, you are sure to experience a picturesque view as you open the game. The betting limit is pretty reasonable that starts with 25p and can be increased up to a max of £250 each spin.
About the developer of Copy Cats Slot Latest Slots Games

This is one of the latest slots games that is developed by NetEnt, an innovative online casino games creator. With over a hundred games in different variants, you can experience ultimate in entertainment and highly rewarding bonus features in them.
About the game
The game is loaded with some wonderful features and colourful symbols that help you win some impressive rewards. There are symbols of three different bright coloured cats along with fishbone, a bottle of milk and a wind-up toy mouse. The red colour funny faced cat pays the highest reward with 200 times when five of its symbol lands during a spin. All these symbols present some really funny animation on winning. There are four colours of paw prints that represent low paying symbols. There are two bonus symbols in this game and they are the golden cat and the cat's necktie bell.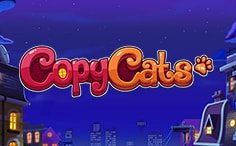 Wild Bonus and Copycat:

The golden cat symbols are the wild symbols and it backup all the other symbols bar the cat's bell. There is a copycat feature associated with wild that can help you win big. The first reel allows symbols appearing fully stacked and when wild appears that way, all the cat symbols on other reels become wild too. This is the feature that makes it one of the best

latest slots games

as you can win huge rewards.
Scatter Bonus:

The necktie bell symbol is the scatter and three symbol landings trigger free spins. You are awarded ten spins that can be re-triggered anytime.
Summary of Copy Cats Slot Latest Slots Games

This is one of the unique feature powered latest slots games with some funny animation and colourful graphics. The RTP of this game is 96.8% which is good for a slot.

strong{font-weight:700 !Important;} /* .main-content{ margin-top:-3px;} @media screen and (min-color-index:0) and(-webkit-min-device-pixel-ratio:0) { @media { .clearfix2{ height:10px;} .main-content{ margin-top:-3px;} }} .sign-up-now1{ margin-left: 21%; border: 1px solid transparent; border-radius: 3px; background: #001d51 ; width: 184px; height: 42px; font: 20px/40px 'MyriadPro-Black'; text-transform: uppercase; text-align: center; color: #fff; padding: 7px 13px;} @media screen and (max-width: 650px) and (min-width: 280px){ .sign-up-now1{ margin-left:3% !important; font: 13px/40px 'MyriadPro-Black' !important; padding: 13px 13px !important; } } .sign-up-now1:hover{background: #0259f9 !important; border: 1px solid #001d51 !important;} .footer-payment{ margin-top:-23px;}*/ .game-detail-cont { padding: 55px 12px !important; } .bannerterms:first-child p, h1, h3 { text-align: right; color: #000000 !important; }