Birdz Mobile Slot | SlotsLtd.com
Play Birdz Mobile Slot at SlotsLtd.com Today!
BetSoft along with the Games Warehouse (NYX) has launched their next amazing venture with BIRDZ mobile slot. Once you start the game, you will be welcomed by the BIRDZ on the wire with beautiful graphics and music in the background. It gives the slot a beautiful, colourful and vibrant look with the birds of all the sizes, colours, and shapes sitting in the middle of the paylines.


The game set on a farm has a lot of bonus features to offer to its players. BIRDZ mobile slot is available to play on the desktop as well as the mobile devices. It is a web-based slot, so players don't need to download an application to play the game on their smartphones.
BIRDZ Mobile Slot keeps you glued to the reels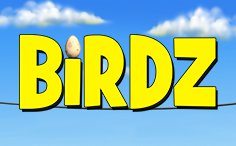 BIRDZ mobile slot is a video slot with thirty paylines. It has the cascading features which mean that whenever the players land up with the winning combinations, the winning symbols will get disappeared giving space to the new ones to come up. The players can place the bet ranging from 0.30 units to 150 units and the betting remains fixed on all the paylines. BIRDZ is loaded with the bonus features.
Bonus Features
Though the players don't get to play any separate Bonus round in the game, they have a lot of bonus features that increase their chances of winning the game. Each of the features gives the players more excitement and more options for getting the winning combination.
Shotgun: In this feature, three birds get selected to shot away, so that you can have more chances of landing up with the winning combination.
Zap: In this feature, the birds on one of the wire gets electrified so that all the birds from that payline gets disappeared making space for new symbols to come up.
Bird Blitz: This feature gets activated when you end up with the non-winning spin. Here, you will keep receiving the free spins until you end up winning it.
Pecking Order: In this feature, three of your low-value symbols get replaced by high-value symbols.
Cracking Wilds: In this feature, three of the symbols on the reels get replaced by the Wild symbols.
Scarecrow: Here, all the birds on the reels fly away replacing with all new symbols to increase the chances of getting winning combinations.
To Sum BIRDZ Mobile Slot Up


BIRDZ mobile slot features 3D graphics and cartoon types animation along with great sound effects just like the sound of feathers. This makes an amazing experience for the players. Every time you click on spin, you can see fifteen birds flying in to take their place on the reels. This makes for quite a visibly appealing experience for the players.